Pruning & Mulching
TIGER SV-38 by ZANON
The shear TIGER SV-38 has a quick cut, powerful motor and full blade control. The trigger is progressive and the blade position can be always under control. The progressive trigger makes a precise cut in any condition and the blade system allows the branch to heal perfectly.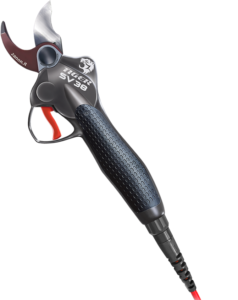 The great ergonomic design of the Tiger SV 38 makes the handling of the pruners simple and comfortable, the ease of use reduces the stress on the hand and wrist to avoid carpal tunnel issues.
The Tiger SV-38 is ideal for smaller olive trees, and for your fruit trees, grape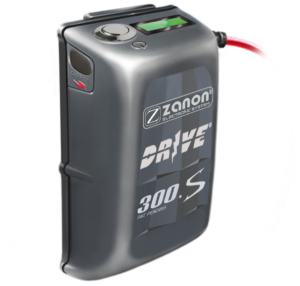 vines,etc. This is an incredible tool you must try to believe. It comes with a small Li-ion battery that weighs around 1kg and straps to your belt. You will be amazed at how enjoyable pruning can be.
The Tiger SV-38 is suitable for left and right handed people.
MARLIN RECIPROCATING SAW  by ZANON
For small to medium trees try our newly offered Marlin SF150 reciprocating saw from Zanon. This is strong, powerful and lightweight.
The brushless motor means a lower level of maintenance is required and the workmanship on this machine is to the high standards we have come to expect from Zanon. The quality of the components, the characteristics of the machine and the ease of use have placed the new electronic pruner among the most powerful and lightest in the world. It is equiped with counter-balancing weights to allow small branches to be cut without any vibration.

The 33v transformer for the very popular Mambo Karbonium Evo is interchangeable with the Marlin saw, making this an economic purchase. The ability to orient the head makes it easier to cut those awkward branches.
The Marlin SF-150 is available with a telescopic pole or a fixed length pole, making high pruning possible with ease.