PRES40 & OLIO MACH1 CRUSHER/MALAXER COMBO
We have worked with our Italian suppliers and modified a couple of powerful manual hydraulic presses with all contact surfaces in Stainless Steel matched up to a fantastic proven crusher/malaxer.
There are 2 options – the PRES30 (30-35kgs) or the PRES40 (60-65kgs of Olives with the Olio Mach1 crusher/malaxer 60-70kgs.
These are up and running in NZ and have proved to be very simple and efficient to run.
By utilising bags (muslin, mutton cloth or open weave cotton fabrics) you only need to use maximum of 6 stainless steel slotted plates all set within the stainless cage.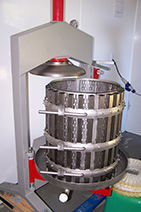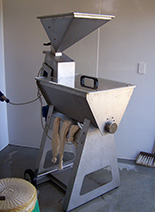 TRADTIONAL HYDRAULIC PRESSES
By indent order only.
For those who want to squeeze out the extra bit of oil. Again these are well tried and proven machines all made in Italy. These MUST be ordered before October 20th of the year for delivery in Feb/march of the following year. A 25% deposit will apply.
We have attached a pdf file showing images and basic details of these various presses – 30kg/hr – 50kg/hr and 100kg/hr.